Public Utilities As-Built Surveys-Above Ground
Mobile LiDAR Mapping
Street Level Imagery data collection and processing
Sag Analysis
Powerline Geometry
Clearance measurement for Overhead lines
Modelling of Overhead Lines
360 Video and 3D Imaging
GIS Data Collection and Asset Inventory
As-Built Surveys-Above Ground
Mobile LiDAR Mapping
Street Level Imagery data collection and processing
Street Sign Inventory
Green Space Area Quantification
Before/After Disaster Street Documentation
Floor Elevation Analysis
360 Video and 3D Imaging
GIS Data Collection
GIS Asset Inventory
Utilities Mapping
Reality IMT supports the Utility industry nationwide by providing mobile mapping services that can digitize the above ground assets within the entire Right of Way (ROW). We apply the latest technology tools to document and measure thousands of miles of corridors without disturbing traffic.
Our LiDAR mapping device is used to collect millions of measurements on the fly with high level of accuracy. All measurements are geo-referenced to a local coordinate system that can be verified by our client's survey crew post mission. In addition to Mobile LiDAR, we utilize a 3D camera that can provide an ultra high resolution images of the corridor in 360 degrees. Our 3d mapping services enhance engineering accuracy, shorten project schedules, eliminate safety hazards of field crew, and reduce costs associated with verifying critical assets location and condition. Maintenance and operations teams can improve coordination among each other, among contractors and suppliers by using a web-based 3D as-is environment showing the exact location of circuit miles, poles, and sub-stations.
Our clients are able to reduce time spent on the project by 40% and reduce cost by 25% when compared to conventional methods.
Roads and Highway
Our Street Level Imaging and Mapping Services provide a comprehensive infrastructure as-built for condition assessment, planning, and inventory. Data collected by the system is geo-referenced to a local coordinate system enabling our clients to extract street features such as streetlights, poles, street signs, curb inlets, manholes, sidewalks, trees, etc.
Reality IMT's road and street mapping services provide nationwide coverage and enable decision makers to visualize remote sites and corridors from the comfort of their desktop, where they can visit the site as many times as they need to, take 3D measurements, extract features of interest and generate GIS database of their assets.
With over 180 years of combined experience in street mapping, see how our team can deliver quality data while saving you time and money.
Right of Way Imaging and Mapping- The Right Way
Reality IMT's 360o video mapping supports Rail Right of Way Mapping survey and acquisition best practices at a fraction of the cost of other 3D mapping technologies Energy companies, railroads and utilities as well as the public sector face a […]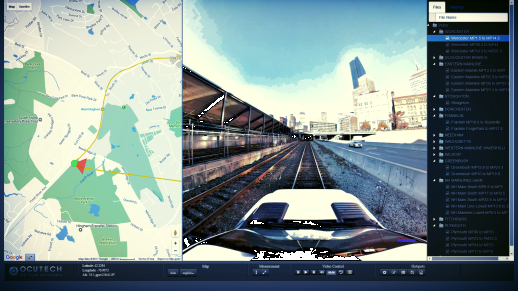 Railroad 360 video
Every railroad corridor requires a set of fiber optics cable network in order to keep it running but what does railroad 360 video mapping have to do with this? Like any other construction project, installation of a fiber optics cable […]