1. INTRODUCTION
1.1. PURPOSE OF THIS DOCUMENT
This document is prepared to provide information on Reality IMT's Track Survey Technology including hardware, software, sample scope of work, and how the technology is being used in asset management and signals.
1.2. INTENDED AUDIENCE
This document is intended to help the project team identify areas of interest where track survey technology can be applied to save time, reduce cost and/or improve efficiency.
1.3. DEFINITIONS, ACRONYMS AND ABBREVIATIONS
Acronym or abbreviation
Definition
Geovideo/Geoimage
Full motion video synchronized with GPS location based on timestamp.
An Image with GPS location embedded in it.
GIS
Geographic Information System.
LIDAR
Light Identification Detection and Ranging.
GNSS
Global Navigation Satellite system with Inertial System
INS
Inertial Navigation System. Uses a computer, motion sensors (accelerometers) and rotation sensors (gyroscopes) to continuously calculate by dead reckoning the position, the orientation, and the velocity (direction and speed of movement) of a moving object without the need for external reference.
RTK
Real Time Kinematic. A satellite navigation technique used to enhance the precision of position data derived from satellite-based positioning systems
POI
Point of Interest
OcuMap
A cloud-based software platform for Geovideo, geoimages and GIS. OcuMap consists of the following main parts: client application (OcuMap Viewer) and server application (OcuMap backend application).
2. TRACK SURVEY TECHNOLOGY COMPONENTS
2.1. HARDWARE
A- 360° Video Camera: An Industrial Grade Panoramic Camera with 30 Megapixels capable of recording full motion video at 14 frames per second. Typically mounted on the roof top of Hyrail to capture right of way conditions.
B- Positioning and Navigation System: RTK-GNSS with INS that can log position in real-time with up to + or – 15 cm.
C- Video camera: Full motion video camera can be mounted in front of the Hyrail to capture tracks condition.
D- Workstation laptop (1 TB+ storage) : Operated by the passenger to trigger video and GOS recording. Collected data is saved onto the workstation for further processing once back in the office. Preview screen allows the operator to see what the camera sees in real-time.
E- OPTIONAL: Mobile LiDAR system: Records dimensions and geometry of all objects within the right of way up to 100 meters in diameter.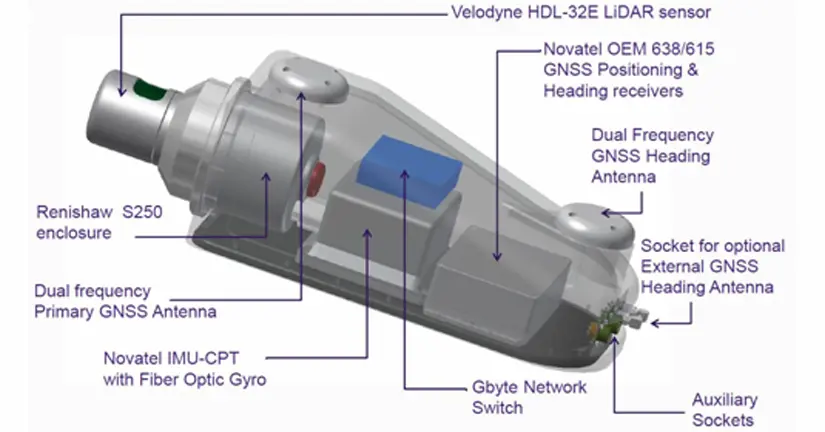 2.2. SOFTWARE
A- Ladybug CapPro: Desktop license for recording full motion video form the camera system. Installed locally onto the Workstation.
B- Inertial Explorer license for post processing GNSS/INS Data. Installed locally onto the processing PC at the office.
C- Optional: Qincy 9: For post processing LiDAR data
D- OcuMap: Web-based software as a service for viewing, geotagging (annotation) and reporting.
3. USE CASE
The system is used to rapidly (45 mph)record field conditions without disrupting the day to day operations of the corridor. It brings the entire site into the office for enhanced decision making.
3.1. ENGINEERING, CONSTRUCTION AND MAINTENANCE
Data collected using the system is used in engineering, construction and maintenance to generate and/or verify:
Track Geometry
Horizontal and Vertical Curves
Plan & Profile for the entire tracks
Track Charts
Highway Grade Crossing
Ballast and ditch profiles
3.2. SIGNALS AND OPERATIONS
Identify location and type of assets along the tracks within the Right of Way
Clearance analysis
Monitor changes over time
Condition assessment
FRA Compliance
In addition, collected videos and imagery can be used when soliciting bids from contractors on work related to the right of way.
4. SAMPLE SCOPE OF WORK
4.1. SAMPLE 1: AS-BUILT TRACK SURVEY SCOPE OF WORK (LIDAR + GEOVIDEO)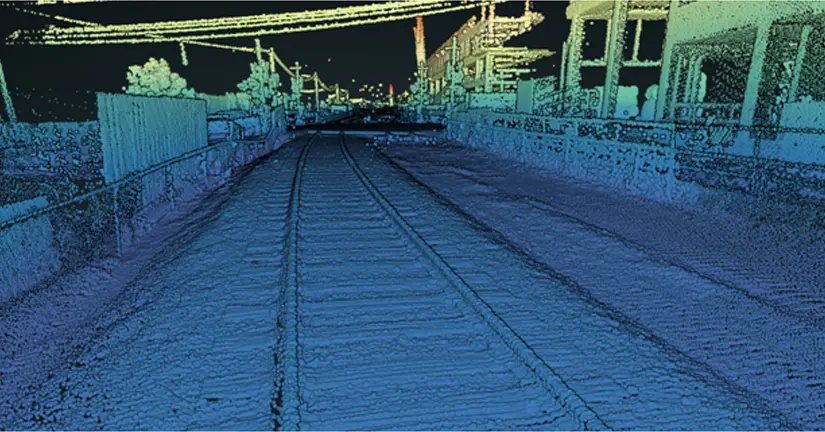 Project Name: Track Survey for Central Rail Network
Scope of Work: As-built survey to re-create the Railroad central subdivision Division Track Charts and Plan and Profile drawings in CAD format
Survey Requirements: The survey shall establish zero point for stationing, i.e. 0 = 000000+00 and shall include:
a. Infrastructure Assets type, location and dimensions within the ROW
b. Curves including spirals and super elevation
c. Track elevation, gradient.
d. Turnouts location and size, (#11, #13, #20)
e. Diamonds location
f. Rail weight transitions / compromise joints.
g. Track Expansion joints.
h. Welded rail sections.
i. Insulated joints.
j. Bridge type – steel, concreate, wood structure, ID both ends.
k. Culvert type – steel, concrete, wood structure, ID both ends.
l. Mile post markers.
m. Speed signs.
n. Signal bungalows, cases, jct. boxes, fiber jct. boxes.
o. Control Points (CP), Intermediate signals (INT), Approach Signals (AS).
p. Switch Machines (RH, LH, orientation).
q. Derails – Type.
r. Road crossings warning systems (level roadway, O/H and U/G). Include name and DOT#.
s. Pedestrian Crossings warning systems.
t. Crossing warning system signal types (Cantilever, gates, flashing lights).
u. Level crossings – Cross bucks.
v. Radio towers
w. Station platforms, center and each end
x. Overhead AC power lines
Deliverables:
Sample video here
Plan & Profile CAD for 35 miles
Track charts CAD.
Web-based geovideo using OcuMap
Workflow and delivery Schedule:
Work performed by Reality IMT included data collection, processing and delivering of CAD files with Geovideo for 35 miles of corridor.
| Activity | Duration |
| --- | --- |
| Coordinate corridor access with client, safety and training with client | 1 week |
| Conduct field survey for 35 Miles | 1 day |
| Post process collected data | 1 week |
| Generate CAD drawings | 3 weeks |
| Total Delivery Duration | 5 Weeks |
Project Name: 360° Visual Corridor Mapping-Asset Documentation and Verification
Scope of Work: Collect 360° video with GPS for 400 Miles. Process data and provide a 2-year license to OcuMap viewer.
Project Requirements: Lease a 360° camera system for 5 weeks, provide training to one person on how to operate the system, process collected data remotely and provide 2 year access to web-viewer.
Deliverable:
Web-based geovideo for 400 miles of right of way. Sample here
Workflow and delivery Schedule:
Work performed by Reality IMT included leasing the hardware system for 5 weeks, training one person and post processing 400 miles of geovideo data then uploading it to OcuMap. Client chose to lease the system since they were not sure how long it may take to collect video data for 400 miles. This was the most cost-effective option.
| Activity | Duration |
| --- | --- |
| Train one person on how to mount the system and collect data | 1 day |
| Login remotely to process collected data on daily basis | 4 weeks |
| Upload processed data into OcuMap and provide access to project team | Every 24 hrs. |
| Total Delivery Duration | 5 Weeks |
5. CASE STUDIES
5.1. RAIL ROAD LIDAR MAPPING HERE
5.2. RIGHT OF WAY IMAGING AND MAPPING. HERE
Reality Imaging and Mapping Technologies (Reality IMT Inc.)