Historic District Renovation Permit
The Vieux Carré Historic District in New Orleans, LA is a unique place due it's historic background. The district showcases the cultural diversity of the City of New Orleans.  The district was founded by Jean Baptiste le Moyne, Sieur de Bienville and laid out in 1721 by military engineers who divided it up into 80 rectilinear blocks.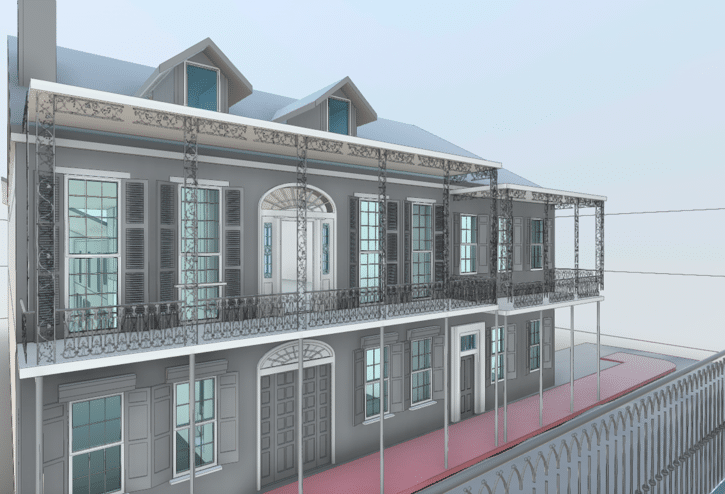 NOLA As-Built-3D Laser Scanning for Historic Preservation
When New Orleans became a part of the Spanish Empire in 1763-1801, the architecture of the district was majorly influenced by the Spanish. While the Quarter are referred to today as the French Quarters, it is because of it's origin not it's architecture.  In 1803, Louisiana was purchased by the United States of America for what is known as the Louisiana Purchase.
Reality IMT used 3d laser scanning technology to document the façade and courtyard of 3 buildings in the quarters. Accurate drawings were created to help building owners apply for restoration permits with the City of New Orleans. Permits are typically reviewed by Vieux Carré Commission to ensure certain guidelines are followed. The laser scan data provided a digital footprint of the buildings with high level of detail, in addition high-resolution panoramic imagery were taken to meet the photo documentation requirements. This non contact way of measuring historic buildings ensures accuracy and zero distress of the building elements.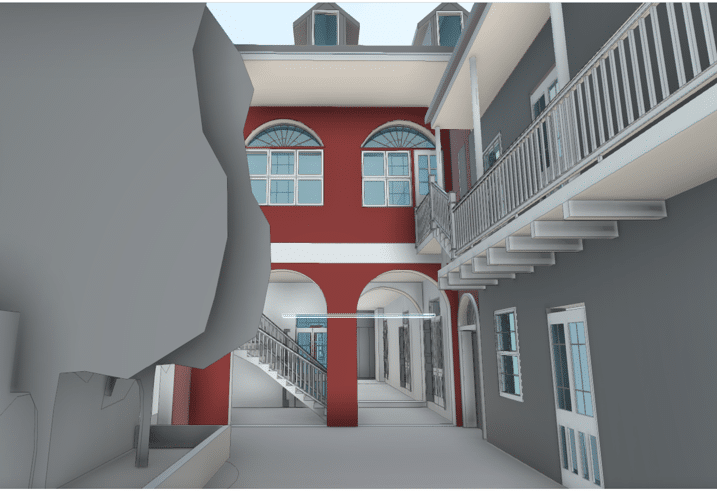 High Fidelity 3D Model
Once the 3D laser scan data was captured, it is imported into Revit where a high fidelity 3d model is developed following the precise measurements of the pointcloud data (laser data). In addition to the historic doors, windows and balconies, an ornamental trim work and railing is developed to ensure every detail of that building is digitally captured.
Reality IMT can help you precisely document historic buildings to a high level of development (LOD). Reach out to us to see how we can help you.