Street Mapping
Our Street Mapping Services delivers geotagged 360 degree panoramic images and panoramic videos. The Street Mapping System is composed of an ultra high definition- spherical camera with GPS receivers and an inertial Measurements Unit (IMU). It is also equipped with UHD LiDAR that can take 700,000 measurements per second.
Reality IMT's Street Mapping Services enable decision makers to visualize remote sites and corridors from the comfort of their desktop, where they can visit the site as many times as they need to, take 3D measurements, extract features of interest and generate as-built drawings or asset inventories.
Comprehensive Infrastructure Condition Assessment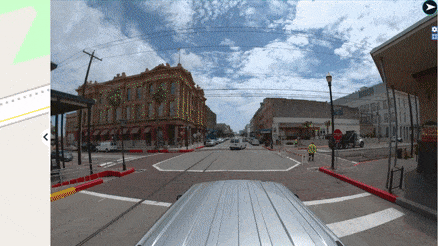 Street Level Imaging and Mapping provides a comprehensive infrastructure as-built for condition assessment, planning and archiving. Data collected by the system is geo-referenced to a local coordinate system enabling our clients to extract street features such as street lights, poles, street signs, curb inlets, manholes, sidewalks, trees, etc. Point and Line features are extracted from the mobile LiDAR data while the 3D imagery compliments the LiDAR pointcloud and serves as a good visual reference.
Street Level Imaging
We provide consulting services to help you select the most suitable and cost effective hardware/software for your street mapping. Our engineers will work with your team on identifying the end-goal in mind and work our way back towards identifying the scope of work, technologies to be used, and develop matrices to help you make the final decision.
3D Imaging and Right of Way (ROW) mapping has become more affordable and more user-friendly in recent years, making it easier for counties and smaller companies to adopt. Weather you work with ArcGIS, QGIS or other mapping tools, we will work with you to ensure that you have a streamlines process for collecting, processing, viewing and extracting the street data you need.